Hike of the Month - Hogback Trail, Griffith Park
By Cory Rubinstein
One of the great advantages of living in Los Angeles is the access to nature and the great outdoors, and there is no more amazing example than Griffith Park. Griffith Park is the largest municipal park with urban wilderness area in the United States.
It rises in the Hollywood Hills, home of the iconic Hollywood Sign, and occupies over 4,000 acres, situated right between Hollywood, Burbank and Glendale. And yet, when you escape into the middle of it, you have the feeling of being miles from civilization and completely surrounded by nature.
The park includes many recreational features such as golf courses, tennis courts, outdoor amphitheaters and the famous observatory; however, an astonishingly large portion of the park is completely undeveloped, virtually unchanged from the days Native American villages occupied the area's lower slopes. At its highest point, the park rises from 384 to 1,625 feet above sea level.
One of our favorite hikes is the Hogback Trail, which can be accessed from several points within the park. The easiest to find is adjacent to the Greek Theater (see directions and a map here.) The walk begins with a gentle walk around the back side of a golf course, but then quickly rises quickly up a fairly steep hill and then brings you to a high ridge that feels like the top of the world.
From this vantage point, one can see all of Los Angeles on one side and the entire San Fernando Valley plus Burbank and Glendale on the other side. We have hiked many trails in and around Los Angeles, but none have greater views than these.
For the adventurous, the hike can continue to a point where it intersects with a different trail that rises from behind the L.A. Observatory (a location for many movie shoots, from Rebel Without a Cause to Transformers). Alternately, there is a trail that leads down into the San Fernando Valley side of the park, ending near the carousel.
Hiking in Griffith Park is extensive, beautiful and varied, and it is worth spending many hours exploring, rejuvenating and getting healthy!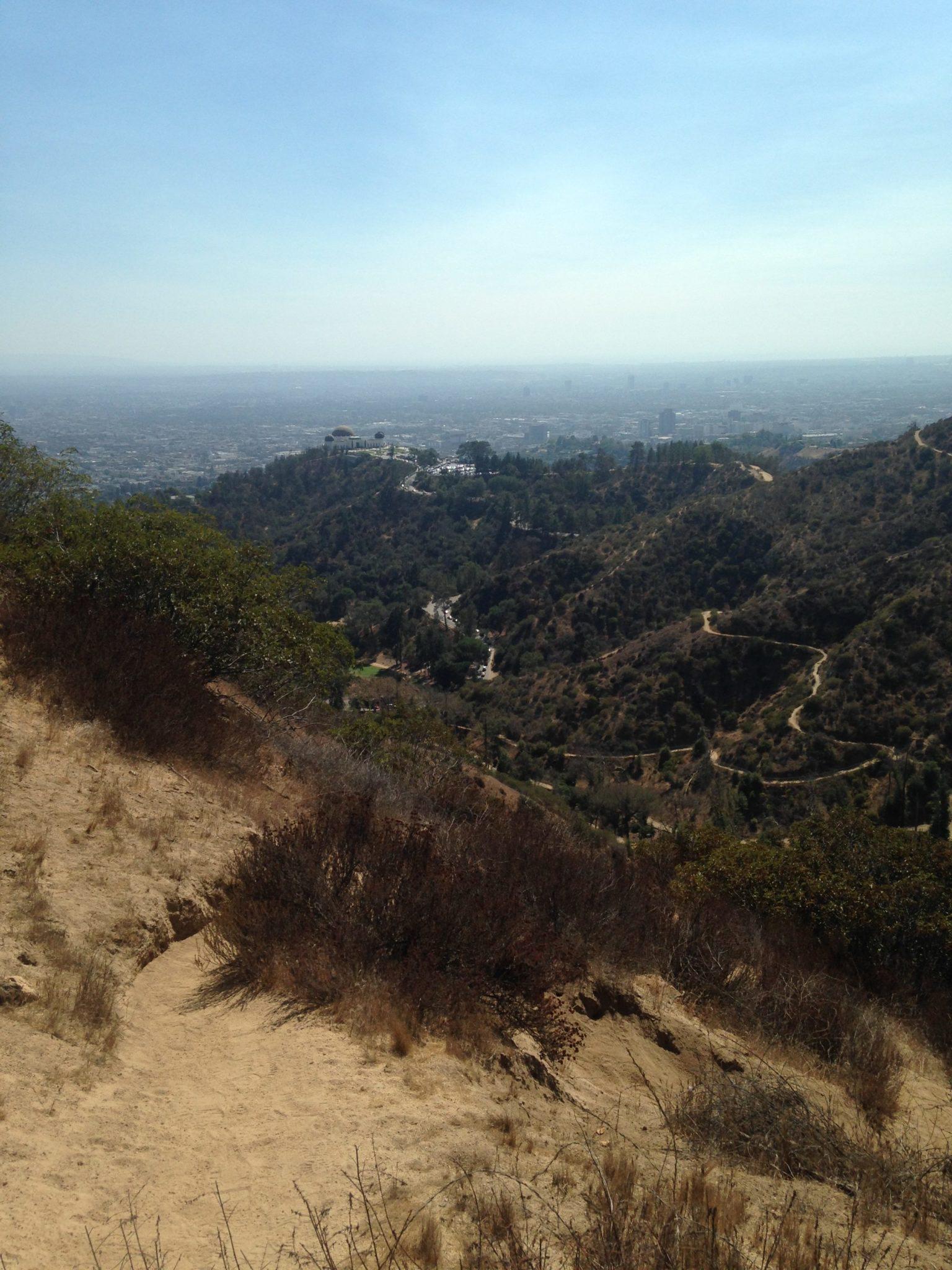 Downtown LA is the New Destination for Tech Start-ups
By Cory Rubinstein
For the past decade, the tech industry in Los Angeles has generally gravitated to the west side of town, specifically to an area popularly known as "Silicon Beach", consisting of coastal communities like Venice, Santa Monica and Playa Vista. However, in just the last few years, this tech migration to the beach has begun to change course and head to downtown L.A., taking advantage of the lower real estate prices and untapped resources, not to mention a hip urban "vibe" that appeals to the younger millennial generation.
Credit for this change goes partially to the efforts of the City of Los Angeles government and the mayor's office which has put an emphasis on building appealing new high-rise housing units downtown, improving transportation -- such as the new Gold Line which provides service from downtown to the beach -- and encouraging new restaurants, entertainment centers and shopping centers (including grocery stores) that make the downtown environment much more livable than it has been since its heyday in the 1950's and '60's.
These efforts have been going on for years, but the movement has clearly hit an "activation energy" recently, creating energy and excitement among tech entrepreneurs for living and working in LA's urban core (and not incidentally, avoiding the hassles of long commutes).
Downtown Techies Organize as Grid 110
It was this shifting landscape that excited Stephen Kane. A local East sider himself, Stephen held a vision of Downtown LA becoming a modern-day tech hub. In April 2014, he was elected to downtown neighborhood council and created an unofficial task force comprised of fellow DTLA based entrepreneurs and community organizers to look at the best way to achieve this. They began to meet up regularly which quickly turned into a sort of support group. And it was this way that Grid 110 was born.
Their vision: support entrepreneurs to positively impact the economy in Downtown LA. The idea was to help start-ups get over the hump many entrepreneurs face when trying to expand and grow—the same challenges they as a group were facing. They decided the best way to meet this challenge was to connect start-ups to affordable office space and offer access to mentors and funding to help them grow into sustainable companies, which in turn would support the start-up ecosystem downtown.
To achieve this, they first reached out to the Mayor's Office, a big force behind revitalizing Downtown LA, who facilitated discussions with developers and potential partners. One of those conversations was with Brookfield, a major property owner and eventual building partner interested in attracting tech companies into their office buildings.
According to James Malone, Vice President of Leasing at Brookfield, supporting organizations like Grid110 is a strategic no-brainer. "With seven Class-A buildings in the Downtown core, partnering with Grid110 was a natural fit with our vision to diversify our portfolio of tenants. Traditionally our tenants have been banks, insurance companies, law firms, and consulting firms, but as we are seeing growth from technology tenants in this market along with the rising Millennial population living and working downtown, we wanted to figure out how we could make our buildings more attractive for their needs."
"Start-ups shouldn't be scared of high rises," Malone continued, "From an infrastructure standpoint, our buildings are robust, offering superior bandwidth, on-site security, and other amenities that growing companies need. Since we house a number of banks, investors, and other types of service businesses in our buildings, this gives start-ups strategic access to companies that they need. Plus, our rental rates are very competitive to Silicon Beach and there's nothing wrong with having a view!"
LA Architect Frank Gehry Retrospective at LACMA
By Cory Rubinstein
One of the most iconic buildings in Los Angeles is the Walt Disney Concert Hall (pictured above), designed by long-time Angeleno and one of the world's most influential architects, Frank Gehry. Now, L.A. residents and visitors can find out more about this legend at the Retrospective Exhibit at the Los Angeles County Museum of Art (LACMA) beginning this Sunday, September 13th, and running through March 20, 2016. Besides the Disney Hall, Gehry is renowned for the Guggenheim Museum in Bilbao, Spain, the "Dancing House" in Prague, and the Cinemateque Francaise in Paris.The exhibit at LACMA is the United States premiere of Frank Gehry, a major retrospective examining the prolific body of work of one of the world's most celebrated and innovative architects. Canadian-born, Los Angeles–based architect Frank O. Gehry has revolutionized architecture's aesthetics, social and cultural roles, and its relationship to the city. His understanding of a city's heterogeneous and fluid nature has distinguished him as a revolutionary urbanist.Gehry's works—from his residence in Santa Monica (1978) to Walt Disney Concert Hall (2003) in downtown Los Angeles and Fondation Louis Vuitton (2014) in Paris—question a building's means of expression, a process that has originated new methods of design and technology as well as an innovative approach to architectural materials. Tracing the arc of Gehry's career from the early 1960s to the present, the exhibition focuses on two overarching themes: urbanism and the development of digital design and fabrication, specifically his use of CATIA Digital Project, a software tool that Gehry developed, which allows the digital manipulation of three-dimensional information.Organized by the Centre Pompidou, Musée National d'Art Moderne, Paris, Frank Gehry examines a total of over 60 projects through more than 200 drawings, many of which will be on view for the first time, as well as 66 models that illuminate the evolution of his architectural process. In addition, the LACMA presentation will include new models not previously seen in the Centre Pompidou's exhibition, representing buildings currently being designed or in the process of construction.These projects include Facebook's new campus, the Philadelphia Museum of Art's renovation, and Gehry's most recent residential designs—both private residences and large-scale developments. "Frank Gehry is one of Los Angeles's cultural icons, whose influence on international architecture and urbanism cannot be understated," said Michael Govan, LACMA CEO and Wallis Annenberg Director. "It is a great pleasure to bring this retrospective to Frank's hometown and present it to a Los Angeles audience."Don't miss this chance to experience the genius of a local legend who has had an extraordinary impact on modern architecture worldwide!
Abbot Kinney First Fridays Offer Food, Music and Art
By Cory Rubinstein
What began as a pop-up arts festival has, since 2008, grown into a popular monthly event held, naturally, on the first Friday of each month. Long a popular parking spot for local "food trucks" or catering trucks offering unique gourmet options, the habit of gathering on Abbot Kinney on the weekends grew in popularity until it finally became an official Venice community event. Local merchants on or near Abbot Kinney, the thoroughfare that runs diagonally through Venice, come together every month to feature the best artists, gifts, products and music in the area. Local charities benefit as art aficionados, couples and families descend on the always funky beach community. Possibly even responsible for the rebirth of this eclectic beachfront neighborhood, the First Friday festival is a fun, food truck-focused event with select shops open late, happy hours at select restaurants and special events in popup locations that vary each month. The casual, artistic vibe of the event draws a variety of urban characters, from Westside socialites to trendy urban hipsters and artists who all mingle in the twilight ocean air, sharing their visual and culinary discoveries. For those who wish to check out the unique cultural vibe of Venice, the First Fridays event is a great reason to make the trip. Venice is a special neighborhood in many ways and has a strong presence in the history and culture of Los Angeles. The street that hosts the festival is named for Abbot Kinney, who created the town of Venice around 1905 as a Disneyland-like park with elaborate beachfront entertainment and a series of canals that were navigated by actual gondolas brought from Venice, Italy. In the 1950's and 60's, the area became popular with hippies and was a hangout for rock legends like Janis Joplin and Jim Morrison. Today, the canals are lined with upscale homes, making a terrific spot for strolling before or after your First Fridays experience. Of course, an evening at First Fridays is also a great finish to a day at the beach!
Nike Basketball 3ON3 Tournament
By Cory Rubinstein
On August 7-9, 2015, show the world that you've got game at the Nike 3 on 3 Tournament at L.A.'s Staples Center! The pros will be heating up the STAPLES Center but you can take your own skills to the outdoor courts on the streets of Downtown L.A. and L.A. LIVE at the 7th annual Nike Basketball 3ON3 Tournament. See how your game stacks up against thousands of local competitors, while enjoying free activities and watching exhibition matches with the world's top players. Participants include over 1,500 teams, 5,000 players and 40,000 spectators, making it California's largest 3 on 3 basketball tournament. Compete with every kind of athlete, from college players, to recreational league champions, to intramural players, weekend athletes, AAU and YMCA participants. In addition to competitive game play, the three-day weekend also features fun activities for players and spectators alike, including: ESPNLA All-Star Celebrity Game, Nike Slam Dunk Contest, free Fan Fest with over 20 interactive vendors, live entertainment and dance performances, and basketball-themed activities and giveaways. If you need help finding out how to participate, make sure and ask your Relocity Personal Host to help you! World class sports are a major draw for people moving to L.A. and we want to make sure you take advantage of amazing events such as these!
Summer Rooftop Dining at the Ritz-Carlton
By Cory Rubinstein
Outdoor rooftop dining has long been a refreshing indulgence in Europe and other parts of the world, but until recently, it hasn't seemed to be as popular in America. Some of our fondest memories include dining al fresco on the roof of a hotel next to the Roman Forum or in Paris -- time-honored traditions that have now begun to make it to the U.S., particularly in the sunny climes of California. This summer, Angelenos can head to the Ritz-Carlton in Los Angeles for a spectacular dining experience at WP24, Wolfgang Puck's signature restaurant in downtown. Enjoy a signature summer menu of cocktails and light bites from Wolfgang Puck while listening to live jazz music featuring a breathtaking panoramic view of Downtown L.A. Reservations required, call (213) 743-8824. Located on the 26th floor terrace of The Ritz-Carlton, Los Angeles, the popular WP24 Rooftop Patio returns for a second summer of delicious seasonal cuisine against a backdrop of panoramic views. Open to both hotel and outside guests with a reservation, the WP24 Rooftop Patio debuts on June 3 and continues every Friday and Saturday through September 5, 2015. The rooftop menu from WP24 Chef de Cuisine John Lechleidner includes a rotating selection of fresh-to-order, summer inspired plates such as Confit Pork Belly Sliders with cipollini onions, arugula and apricot mustard; Thai Spiced Grilled White Corn on the Cob with Thai basil, red chili and cilantro; Housemade Bratwurst with toasted bread, sage mustard and brown butter aioli; and Maine Lobster Roll on a toasted brioche bun with lemon chive aioli and Old Bay chips. Pastry Chef Megan Potthoff brings a touch of summer nostalgia to rooftop desserts, including Peaches & Cream with peach compote, vanilla bean ice cream and almond crumble; Caramilk Crunch Bar with puffed rice, caramel nougatine and milk chocolate; and a selection of old- fashioned Ice Cream Pops in flavors such as toasted coconut and dark chocolate. Typically reserved exclusively for registered hotel guests, the 26th floor rooftop terrace is only open to outside visitors during the summer patio dining series. The deck overlooks the downtown Los Angeles skyline and features views of the iconic landmarks such as the Hollywood Sign and Griffith Observatory. The WP24 Rooftop Patio is open on Friday and Saturday, from 6:00 – 9:30 p.m., and features a rotating selection of live entertainment. Reservations must be made through the WP24 restaurant hostess at 213.743.8824.
First Page
Previous Page
Last Page