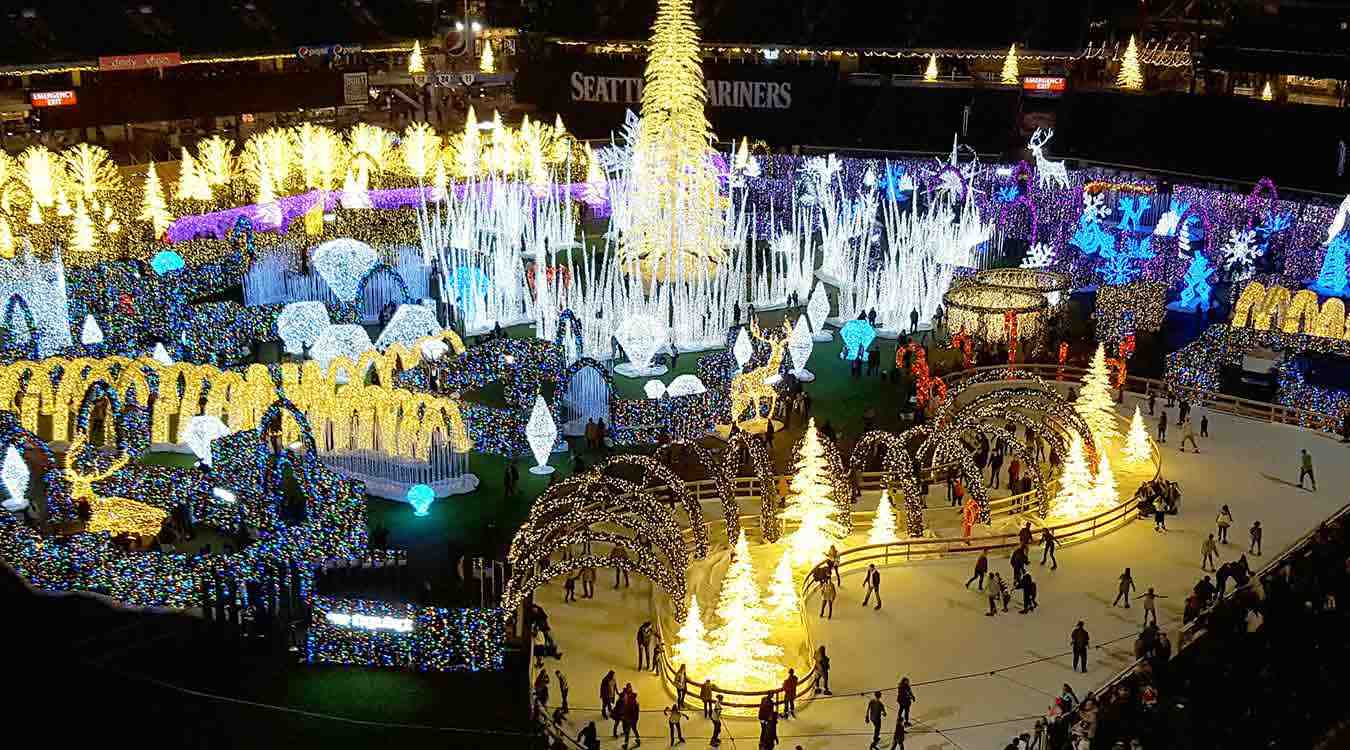 The urge to light up long winter nights with festive celebrations has been a part of human culture since the day an ancient European dragged an evergreen tree indoors and decorated it with candles, before Christianity even existed.
Who doesn't want to dispel the gloom of winter with some bright lights and fun?
Luckily, these days, we don't have to rely on candles. Holiday light festivals have become almost a competitive sport, with communities and whole cities trying to outdo each other with the size and originality of their displays.
There are some remarkable light festivals in the cities Relocity serves. Here are some of our favorites.
Seattle's "Enchant Christmas"
In Seattle, the Christmas season is a-mazing! That's because their Enchant Festival includes the world's largest Christmas maze, covering almost 100,000 square feet! It includes large light sculptures and arches, as well as an ice skating trail and falling snow (see photo above).
Afterward, a European-style Christmas market is your chance to purchase some decorations or an ugly Christmas sweater while munching holiday treats.
When it comes to Christmas, Seattle isn't fooling around!
The festival runs from November 22 through December 29th at T-Mobile Park.
Austin's Trail of Lights
In Austin, the "Trail of Lights" takes over Zilker Park, with over 2 million colored lights illuminating over 90 trees and 70 sculptures. This 55 years old festival has grown up with the city, maintaining the creative spirit for which Austin is famous, as well as a charitable element: at least 1/2 of the evenings are free, insuring all Austin residents and guests can participate no matter their income.
Visitors in 2019 will see new modernized displays, interactive environments, Austin's famous food trucks, local musical talent, movies, local merchants and more. It runs December 10-23, 2019.
Los Angeles Area
Besides the famous Hollywood Christmas Parade down Hollywood Blvd. and some other local displays, the most unique holiday light festivals are actually in LA's neighboring cities of Riverside and Newport Beach, both accessible within an hour's drive. I've been to both of these events and they are definitely worth the drive.
Newport Beach Boat Parade
Leave it to Angelenos to find a way to combine theatrics, the waterfront, and holiday lights. The 111th Newport Beach Christmas Boat Parade is a unique way to enjoy the holidays, with a "cast of thousands" (of lights, that is) adorning over 100 boats of all kinds: motor boats, sailboats, yachts, paddleboats and canoes. The parade winds for 14 miles through the labyrinth of canals in Newport Beach, backed by upscale canal-fronting homes that also compete for the most elaborate displays. To top it all off, there is a fireworks display after the parade!
The parade takes place this year on December 18-22.
Riverside's Mission Inn
The venerable Mission Inn in Riverside is an early California resort hotel on the National Register of Historic Places that was originally built in 1902, when Riverside was a resort area closer to Los Angeles than the now more popular Palm Springs. It is considered one of the largest Mission Revival style buildings in the U.S., so it is worth seeing even without the holiday lights.
However, during December, the property (which takes up a whole city block) explodes with lights and holiday displays to rival Rockefeller Center. Every inch of the property, both interior and exterior, is decorated, with 400 animated characters, 4 million lights, Christmas trees and holiday scenes everywhere.
The city of Riverside also gets in on the act with their own Festival of Lights on the adjacent streets, including live performances and horse-drawn carriages covered with twinkle lights.
USA Today recently named The Festival, which lasts from November 29th to December 31st, the "Best Public Holiday Lights Display in the Nation".
San Francisco's "Illuminate SF" Festival of Light
As you might expect, San Francisco's approach to a winter light festival is a bit different. Rather than a traditional holiday themed event, the city's Illuminate SF celebration features light art installations by over 30 artists, appearing in 17 different neighborhoods, expressing the creativity of each artist rather than any religious or cultural connection. In fact, the light installations are available year-round, including street exhibits, illuminations on public buildings, and a light show each night on the Bay Bridge. But from Thanksgiving through December, the light art is highlighted by tours (either guided or self-guided), artist talks, and other events.
New York City - Everywhere
Many consider Manhattan the "Big Daddy" of holiday displays, from the Macy's Thanksgiving Day Parade to the famous tree and ice skating rink in Rockefeller Plaza.
Instead of the lights and decorations being concentrated in one place, holiday displays in the Big Apple are everywhere, presented by stores, businesses and individual homeowners.
Some of the most fanciful displays come thanks to the holiday spirit of high-end retailers like Bloomingdale's, Macy's, Saks Fifth Avenue and Lord & Taylor, who go all out designing seasonal window shopping displays to attract customers and liven up their neighborhoods.
Besides Rockefeller Center, other corporate centers and real estate developers get into the act, such as Bank of American which presents a Winter Village in Bryant Park, featuring an ice skating rink and holiday shopping; Saks Fifth Avenue, whose elaborate windows are accompanied by a 10-story projected light display and opening ceremony featuring Broadway stars; and Brookfield Place, which presents a Winter Garden.
Civic institutions like Lincoln Center, which presents a winter festival called Winter's Eve, and Central Park also light up during the holidays.
Perhaps the best holiday spirit comes from the private individuals throughout the city who festoon their homes and residences with lights and cheer. The Brooklyn neighborhood of Dyker Heights is a great example, where homeowners go all out, even hiring professionals, to help them compete for the most elaborate displays and most original ideas, earning the event the nickname "Dyker Lights".
We hope that whatever city you are in, you find the spirit of the season and enjoy your local events. And if you are in one of the cities Relocity serves, your Relocity Personal Host would love to help you find great ways to enjoy the season!